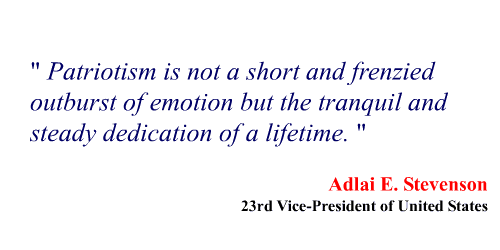 The Patriot Awards were designed to lead youth of the United States to a greater understanding of the amazing legacy we were given by our founding fathers. This legacy has afforded every person in the United States abounding freedoms that are often taken for granted.


These awards present the youth an opportunity to receive recognition for learning, working with family, working with people of varied race, creed, and gender, and experiencing the Heritage, Freedom, Citizenship, and Service of the United States of America. It is our hope that the youth will develop a stronger sense of themselves, their community, and their nation. We also hope that the adults in the youth's life will also pass on their heritage and learn more about this great land.


By completing each segment of the Youth Patriotism Awards, the youth earns a medal signifying their accomplishment and encouraging others to do the same.


All requirements can be done with a unit, group, family, or individually.





UPDATE (07/17/2016) - Yes... we are still alive and the program is preparing for our 8th Anniversary in September. We do want to apologize - it seems like for the past couple of months a LOT of emails and voice messages (that come via email) are being held or directed to our Junk folders. While doing some maintenance, we found a great number of emails and we are in the process of answering these correspondences and messages. Please forgive us and bear with us.


UPDATE (03/18/2013) - Facebook page is in FULL swing. Visit us at Facebook . We post program helps, Congratulations to your youths, historic information, contests, and offers. Come visit and LIKE us.


UPDATE (05/12/2012) - Downloadable Award Certificates have been added on each award page for the Silver and Gold awards. Please feel free to download and use in your awards ceremony.


UPDATE (05/11/2012) - After operating without a Postage increase in the history of the program, we are being forced to slightly increase our postage cost to try and keep pace with the United States Post Office's four increases. Thank you for your understanding.